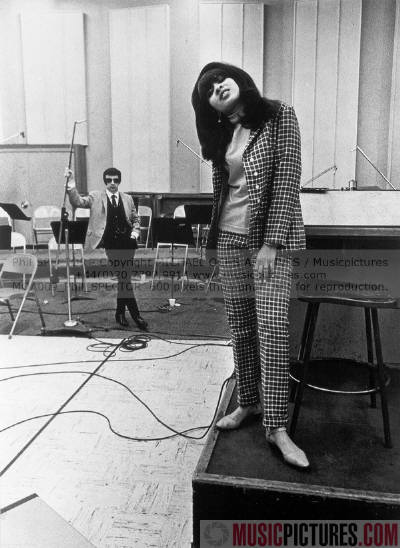 Ronnie Spector, born Veronica Bennett on August 10, 1943, in New York, NY, became famous as a member of the Ronettes, a girl group featuring her sister Estelle Bennett and cousin Nedra Talley. Her powerful and unique voice was a main strength of the band, as was their exotic and glamorous look. The group began as dancers at the Peppermint Lounge in New York and made a string of unsuccessful records in the early '60s before hooking up with Phil Spector in 1963 and releasing great songs and smash hits like "Be My Baby," "Walking in the Rain," "Do I Love You," and "I Can Hear Music." Soon after they began recording with him, Ronnie fell in love with Spector and they were married in 1968. The Ronettes' career was stalled at this point, and at Phil's insistence Ronnie gave up her musical aspirations and spent her time locked away in Spector's mansion, releasing only "You Came, You Saw, You Conquered" in 1969 for A&M and "Try Some Buy Some" for Apple in 1971. The song was written by George Harrison and featured all four Beatles backing her up but it wasn't a hit. The dissolution of bad marriage in the early '70s left Ronnie free to pursue singing again. She put together a new edition of the Ronettes with Denise Edwards and Chip Fields and recorded a couple of singles, "Lover Lover" in 1973 and "I Wish I Never Saw the Sunshine" in 1974, for Buddah. The records did nothing on the charts and she soon broke up the new Ronettes and went solo. After a failed disco single, Ronnie got help from some heavyweights on her next effort. 1976's "Say Goodbye to Hollywood" was written by Billy Joel and the backing band was noted Phil Spector devotee Bruce Springsteen and his E Street Band. Despite the pedigree and the fact that it was a great song, it didn't make much of a commercial impression and Ronnie subsequently spent time as a backing vocalist for Southside Johnny & the Asbury Jukes. Her next single was 1978's "It's a Heartache" and it was a huge hit. For Bonnie Tyler, that is, not Ronnie. Her first solo album, Siren, was released in 1980 and featured a new wave sound and production by former girl-group singer Genya Ravan. As with everything she had released since the glory days of the Ronettes, it was not a hit.
Ronnie finally tasted some chart success in 1986 with Take Me Home Tonight, a duet with Eddie Money, and managed to land a record deal with Columbia. Unfinished Business was released in 1987 and featured songs by Diane Warren, Desmond Child, and Gregory Abbott and appearances by Bangle Susanna Hoffs, Paul Schaffer, and Eddie Money. She made a concerted effort to push the record (starring in an HBO concert, appearing at the American Music Awards, singing at a Radio City Music Hall Christmas show) but it never took off. In 1988 she was reduced to being a member of the Dirty Dancing oldies concert tour. In 1990 she published her autobiography Be My Baby: How I Survived Mascara, Miniskirts and Madness. It was a fascinating tale of a wild and at times harrowing life and sparked new interest in Ronnie. She didn't release any records in the 1990s but appeared on many compilations and soundtracks, including the theme song to Roseanne's cartoon, Little Rosey, a duet with fellow Spector survivor Darlene Love on A Very Special Christmas, Vol. 2, and the cast album of Tim Rice's Tycoon.
In 1999 Ronnie returned to the studio to record new solo material. Creation in the U.K. and Kill Rock Stars in the U.S. released the Joey Ramone-produced She Talks to Rainbows EP to loads of critical acclaim. Featured on the disc were versions of Johnny Thunders' beautiful ballad "You Can't Put Your Arms Around a Memory" and the Beach Boys' "Don't Worry Baby," which Brian Wilson had originally written for her. Ronnie's voice was still strong, weathered by time and experience, but still that marvelous instrument that is unmistakably hers alone. She spends her time occasionally performing and mostly living the quiet life in Connecticut with her husband and two sons.